About
Welcome to Devonshire sofas- Designed by you and handmade by our artisans in the UK. We are a family run business and have been in the sofa making industry for over 30 years, so we know a thing or two about making a sofa that is both stylish, elegant and unbelievably comfortable.
It all began in 1986. We started renovating second-hand sofas, deconstructing them and giving them a new lease of life. As time went on, we realised that we could do a much better job at constructing these sofas. We decided to do just that; make our own, how we wanted to make them, to our own time scale and to a far higher standard.

Our favourite sofas to work on had been those manufactured in the 1950's. We loved their use of coil springs and beech frames, however they were lacking comfort, so we wanted to combine the right design with the right construction- and comfort was a key factor (Mike is extremely particular when it comes to sofas and comfort, so rest assured that comfort is a priority).

Finally, we had designed ourselves a range of sofas we were really happy with, all we needed was to get some great fabrics and we were ready to go. Devonshire Sofas was born; and has been creating bespoke sofas for families all over the country ever since.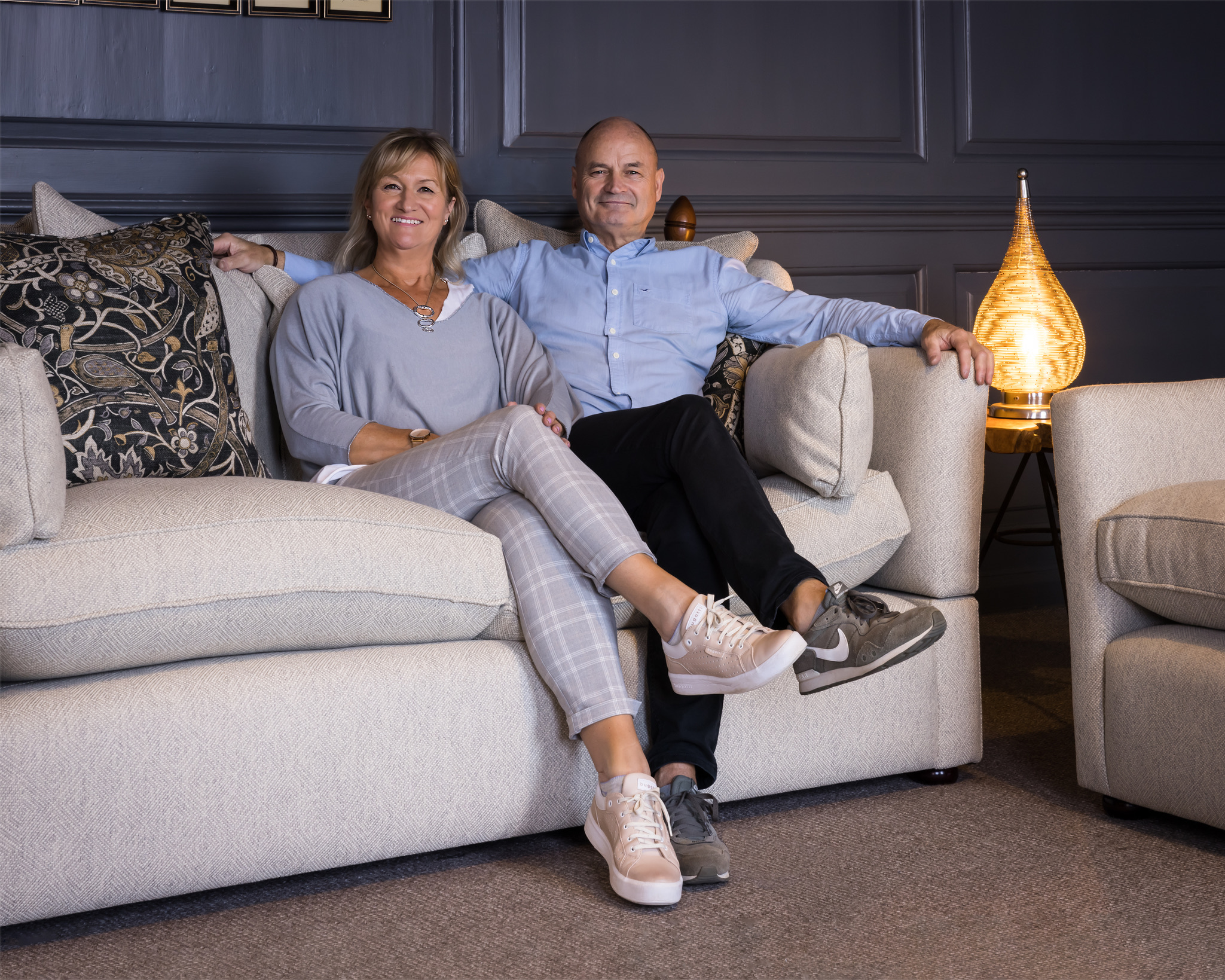 All our sofas are made to order, so they are completely unique. Handcrafted in the UK by artisans, using Solid Beech frames, which are glued, screwed and dowelled for ultimate strength. The frames are naturally robust, which enables us to incorporate a fully coil sprung system, which supports the seating cushions. Comfort is a relatively subjective matter, and of course we all come in different shapes and sizes, therefore we are able to tailor the dimensions to meet your exact needs and requirements.

We have worked extremely hard over the years to incorporate all the key ingredients into our sofas: construction, comfort and design. The service we provide to each and every customer is as bespoke as the sofas you're buying. We continually strive to offer an impeccable service and a memorable buying experience.

Our customers tell us that our sofas are by far their best purchase for the home, with enduring comfort and high quality to stand the test of time.
Our showroom is based in Budleigh Salterton, where we showcase our superb collection of sofas, demonstrating what can be achieved using our eclectic fabric selections and design variations. Our extensive range of fabric books are on site, enabling us to carefully go through your design requirements together while having fun selecting the perfect fabrics for your sofas.. You won't be rushed into any decision making- we know this kind of purchase takes time. While you're with us you might like to pop into our little cosy café, where we serve delicious coffee, lovely light lunches and divine cakes!

P.s Our Devonshire cream teas are to die for!